Celebrating historic Cohoes, NY since 1994

Spindle City Historic Society Meetings – Join us the last Wednesday of every month at 7:00 p.m.
At the Cohoes Visitors Center, 58 Remsen Street, the ground floor of the Cohoes Music Hall.
Check back often for meeting updates and other timely information!
Contact us: Info@SpindleCity.net
Recent Web Site Updates
October 30, 2013: Added two issues to the "Newsletter Archive" page.

Cohoes Postcard Book – Coming Soon!
The Spindle City Historic Society's new book, a history of Cohoes told through historic postcards, will be published in late March. To reserve your copy, contact us by phone at 518-237-5618 or by email at info@spindlecity.net. The Spindle City Historic Society will be celebrating this new milestone with a book-signing event on March 29. Check our website and Facebook page for updates.
And remember, if books are purchased directly from the society, our organization retains over 40% of the cover price to support exhibits, programs, tours and other activities.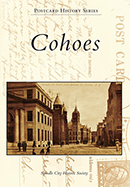 Sale
George Stacey Davis Commemorative T-Shirts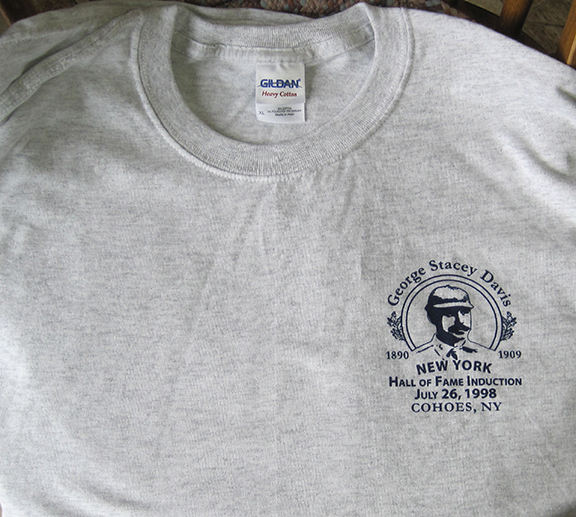 In recognition of the 15th anniversary of the induction of Cohoesier George Stacey Davis into the Baseball Hall of Fame, and the dedication of the George Stacey Davis sign in Silliman Park this June, the Spindle City Historic Society is offering this limited-edition George Stacey Davis commemorative t-shirt. The short-sleeve shirts are gray, with navy blue print. Shirts are $12 (in sizes S-XL), $14 for 2XL, $15 for 3XL, and $16 for 4XL. Youth sizes (S-XL) are also available. To order, contact us at wchernia@nycap.rr.com or at 518-237-5618. Shirts can also be purchased on the day of the George Stacey Davis sign dedication on June 8.
Currently Showing
Upcoming Events
-----------------------------------------------------------------------------------------------------------------------------------
Addition to Permanent Collection
The newest addition to the permanent collection of the Spindle City Historic Society is a collection of miniature horses that once belonged to Grace Reavy, an accomplished Cohoes businesswoman in the first half of the 20th century. She was the first woman in New York State to be named to municipal public office. This collection is now on display in the Cohoes Visitors Center, on the ground floor of the Cohoes Music Hall at 58 Remsen Street, Cohoes. Visitors Center hours are Tuesday - Friday from 11 a.m. – 3 p.m. See "Grace Reavy" to read a feature article on Ms Reavy from the Fall 2005 issue of the SCHS newsletter.
The Spindle City Historic Society's new book Cohoes Revisited has been published.

Copies of our first book, Cohoes, are still available

If you are interested in purchasing copies, please e-mail us at Books@SpindleCity.net. We can also mail books (for an additional charge) if you are not able to pick them up. When you purchase your books directly from SCHS, over 40% of the cover price helps support our exhibits, programming, newsletter and other activities.

---

---
Last Updated: March 2, 2014